There were no results found.
There were no results found.
Julie July Band
Organisers

Julie July Band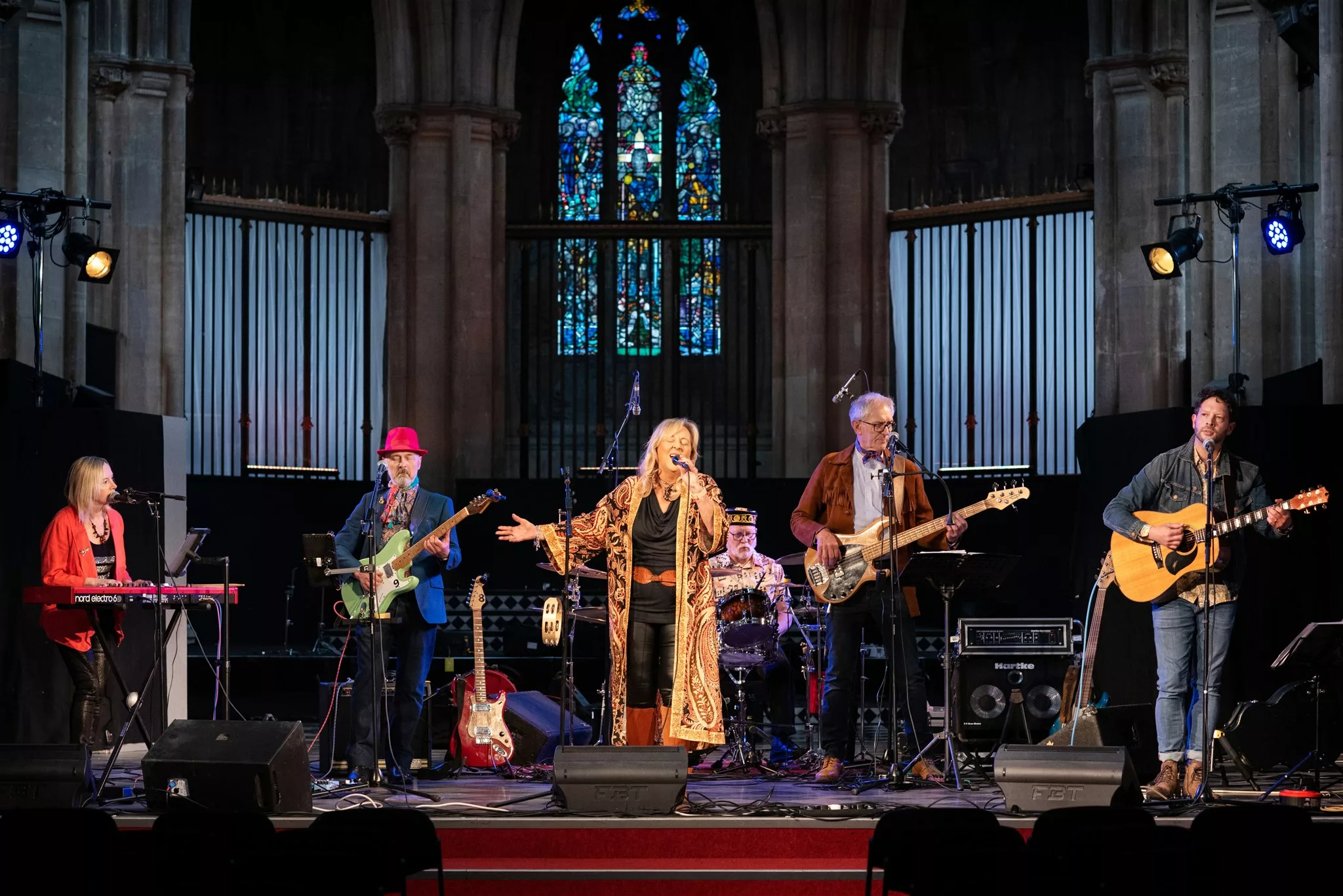 "The songs are finely honed gems of observation and working into diamond-sharp performances that demand attention. The development and growth of Julie July and her band have been both heartening and momentous as Wonderland displays conclusively. This is contemporary British Progressive Folk-Rock delivered with style and conviction" Joh O'Regan – Journalist & Broadcaster – fRoots, LCCR. "Here we have an album of impeccably crafted and performed songs with plenty to say. Delivered by a band of consummate musicians. Every track is a delight, nothing is overplayed or overstated. Every performance is balanced and given in a totally enjoyable manner. The Julie July Band have ploughed their own musical furrow and I love it!" Alan Hewitt – (Journalist - Musicians Corner – TWR) The line-up features musicians with Folk-Rock roots such as Dik Cadbury from 1970's Decameron on Bass, acoustic guitar and vocals. There's Mick Candler – Decameron, Roll Movement on drums & percussion. Julie July is strong on lead vocals and has a voice that really echoes the late 'Sandy Denny'. The Rock element of the band is Steve Rezillo on Lead Guitarist, who supported the likes of 'Thin Lizzy' and 'Aztec Camera' – Steve's unbelieveable talents on the guitar and in studio are essential to creating the bands authentic Folk-Rock sound. Then our newest member, Caley Groves brings fairy dust and magic to the love performance on acoustic guitarist offers a latin, gypsy jazz twist on the bands live performances. Last but not lease is the keyboard and one of the bands songwriters Carol Lee Sampson on Keyboards and Vocals. Carol provides the soul and heartfelt performances in her songs. This is a band growing in confidence, reaching into its huge well of collective experience and delivering some fine music, exquisite vocals and harmonies and striking songwriting. Darren Johnson Music Journalist. Newly released single 'Til the Sun Goes Down' from the band's 3rd album - Wonderland - is a tale of small-town folk with unfulfilled ambitions. We live a life full of what-ifs and we have those musings expressed in the song: the shadow of missed opportunities is a long one but we all have the chance to take that "path to the stars in the sky" and build a better life. Alan Hewitt – Journalist Musicians Corner. Written by Steve Rezillo, this is very much a lead guitarist's arrangement. Steve is a very fluent guitarist, and here moves from the sort of multi-lead fills I liked from the Eagles to a very effective 60s-70s wah-wah-accented solo (could that tower in the last verse be Jimi Hendrix's Watchtower?) Suddenly I find myself missing the 'cry-baby' I wore out in the 70's. David Harley – Music Journalist. Julie July Band line-up features musicians with impeccable folk-rock pedigree;- Dik Cadbury – from 70's folk-rock band Decameron, also worked and performed with Steve Hackett and Mike d'Abo from Manfred Man. Dik plays an important part in the band as one of the main songwriters; he plays bass, acoustic, lead guitar and vocals. Mick Candler – began playing drums in local beat groups in his home city of York in the early 60s, prior to working with Roll Movement and then joining Decameron, Phil Beer and Steve Knightly. Caley Groves – Aussie-born Caley's guitar talents bring an exotic flavour to the band's offering with his exciting and uplifting 'Gypsy Jazz' licks and acoustic moves: just watch his stunning delivery on the live stage version of 'Wonderland'. Steve Rezillo – as well as song-writing duties, contributes a rock element to the band as electric lead guitarist. Gigging since the early 70's – he has supported bands ranging from Thin Lizzy to Aztec Camera – Steve's unbelievable talents on the guitar and in studio are essential to creating the band's authentic Folk-Rock sound. Julie July – to say that Julie can inhabit a song is no understatement. Her voice soars high and proud, earning comparisons with Sandy Denny and Annie Haslam. Whether performing ballads or up-tempo rock, whether folk for the 21st century or a new take on prog riffs, her voice frames the band's lyrical content and makes each song a uniquely personalised performance. Carol Lee Sampson – a truly talented singer-songwriter who writes beautiful and emotive songs as well as providing keyboards and vocals. Delivering heartfelt and soulful performances that stand on their own as well as complimenting Julie's vocals in a powerful, tight and cohesive unit.
Events from this organiser