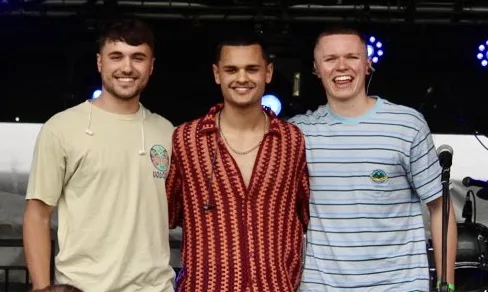 Molly Gone Mad is a trio of brothers, fuelled by a passion for music and performance. Their influences Include the Red Hot Chilli Peppers and flamenco guitar and combine covers such as "Song 2 and Come as You Are" with captiving originals from their upcoming debut album. Coming off a run of festivals, Molly Gone Mad's powerful set is driven by the love of their instruments and musicianship.
Oli Doherty (19) and Tom Doherty(21) have been playing guitar with each other for the last 12 years. During the summer of 2019, Oli wrote and recorded a Pop album and it fuelled the desire to take music further. At the same time Tom decided to leave university and concentrate his time into playing guitar professionally.
Tom is now resident guitarist at Bar Limon and is also a teacher. Sam BT has known the brothers since birth and upon finishing his degree, decided to join Molly Gone Mad as their drummer. They all now live, write and work together. Their close relationships with each other mirrors their tight groove on stage.