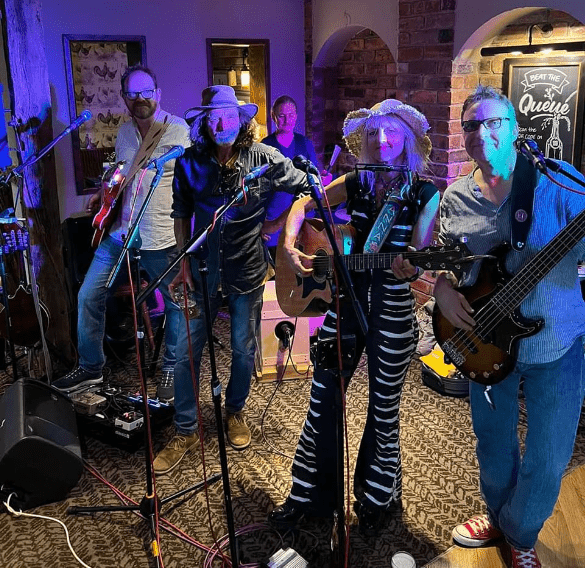 An evening with Hennesea. £15
Tickets available from Ticket Source
Hennesea are a five piece new folk rock band from Malvern in Worcestershire. They regularly play gigs and festivals around the UK and the music is available on Spotify, Amazon and on CD from their website.
Anna Watts, the singer and guitar player with the band has Scandinavian roots. The word Hennesea comes from the Swedish 'hennes' which means 'hers'. The band's first full album came out in 2015. 'Book of Life' features a baker's dozen of eclectic ensemble pieces that range from the winsome title track to the magnificent 'Light Above the Sea'. The latter features Martin Furey of The High Kings on backing vocals and flute.
Mark Keene plays guitar and mandolin while Garry Low is on drums and percussion. Garry is also an accomplished recording engineer and has been responsible for engineering and producing Hennesea's releases. In 2016, Ralph Tittley joined Hennesea on bass guitar and backing vocals. Since then the band has played many gigs and festivals, including the BBC Stage at Lake Fest, Mappfest, Sunshine Festival and Cwm Fest. They have played at every Malvern Rocks since it began.
The latest album, 'Laced with Gold', was released in January 2021 and includes the singles 'The Same Tune' and 'Faison Comme Si'. Since 2019, Hennesea have been joined on stage by Rob Murray-Mason. He began sound mixing the gigs, but soon was adding percussion and backing vocals and is now integral to the sound of the band. Hennesea always put on a good show and never disappoint.