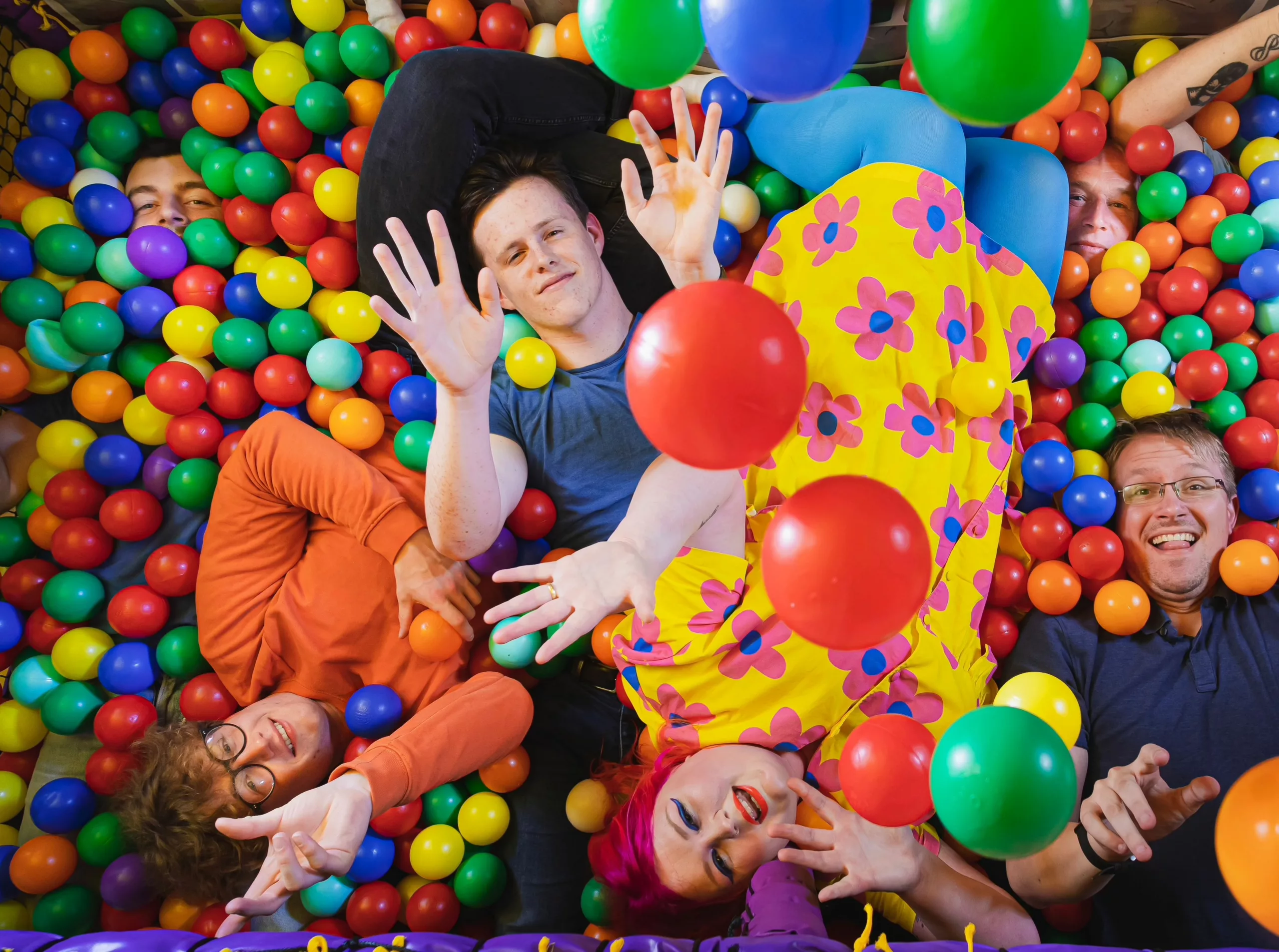 Biskee Brisht is an indie-folk-pop band from the Isle of Man, known for their catchy, hook-laden songs and energetic performances.
They're made up of Ruby Biscoe-Taylor on lead vocals and ukulele, John Kaighin on accordion, Django Kinley on trumpet, Matt Brewster on bass/violin, Joff Whitten on electric guitar, Danny Kneale on drums and whatever friends they can persuade to join them. They may be a big band but they've been known to squeeze into some record-breakingly small venues and Matt has only banged his head once!
Forming in 2017 for the Arrane Son Mannin song competition, Biskee Brisht (Manx Gaelic for 'Broken Biscuit') went on to win two years in a row, and represented the Isle of Man, competing and performing at the International Pan Celtic Festival in Carlow and Letterkenny, Ireland. Since then they've recorded and released their debut album, Stand in the Sea, plus the upbeat 2020 Christmas single, (Christmas) Maybe Next Year, and their most recent single, Christmas Morning in 2021.
They've played across the Isle of Man at venues including the Villa Marina, Deep South Festival, Yn Chruinnaght and Shennaghys Jiu festival, and made their first European appearance at Lorient Interceltique Festival in 2022. A passion and appreciation for Manx culture and the language revival has inspired Biskee Brisht to write and release songs in both English and Manx Gaelic, being one of a small number of bands to write new music in Manx Gaelic. This has attracted radio play from BBC Radio Shropshire, Manx Radio, BBC Radio Guernsey, Folkhampton, Mana'o Radio Maui and more.
They play in many different configurations, from the full eight-piece with drums, right down to a trio or duo depending on the venue or event – their smaller group now affectionately known as 'Biskee Crumbs'. With up to eight members, the band's influences reach far and wide – Matt used to play in experimental metal bands and symphony orchestras, Django had a childhood obsession with The Beatles, and John has a keen interest in traditional folk bands and plays for local dance groups. Songwriter Ruby takes her influences from artists like Beirut, Sharon Van Etten and Julia Jacklin, her interest in Manx language and culture, along with a huge love of Phil Spector's girl bands like The Ronettes and The Crystals.
It all blends together to give Biskee Brisht a sound that's hard to pin down. They're bright and energetic, filled with hooks and infectious melodies and perfect for fans of Belle and Sebastian, Camera Obscura, Neutral Milk Hotel, Skinny Lister and Allo Darlin'.
Having received funding from the Isle of Man Arts Council, Biskee Brisht are currently back in the studio recording their second full-length album, with the lead single due for release in autumn 2023.
This summer will see Biskee Brisht take some trips off the 'rock' (Isle of Man) with shows across the UK and festival appearances at the Great Northern Ukulele Festival, Full Moon Festival and more to be announced. RGM Press described Biskee Brisht as 'charming' and 'timeless', 'true joy to my ears' (July 2020) Mike Wade of IOM Today wrote it's 'hard to resist their catchy, hook-laden songs' (September 2019) The Manx Independent wrote that Biskee Brisht are 'effervescent' (November 2020) Turtle Tempo said Biskee Brisht are 'absolutely guaranteed to give you goosebumps' (December 2021)