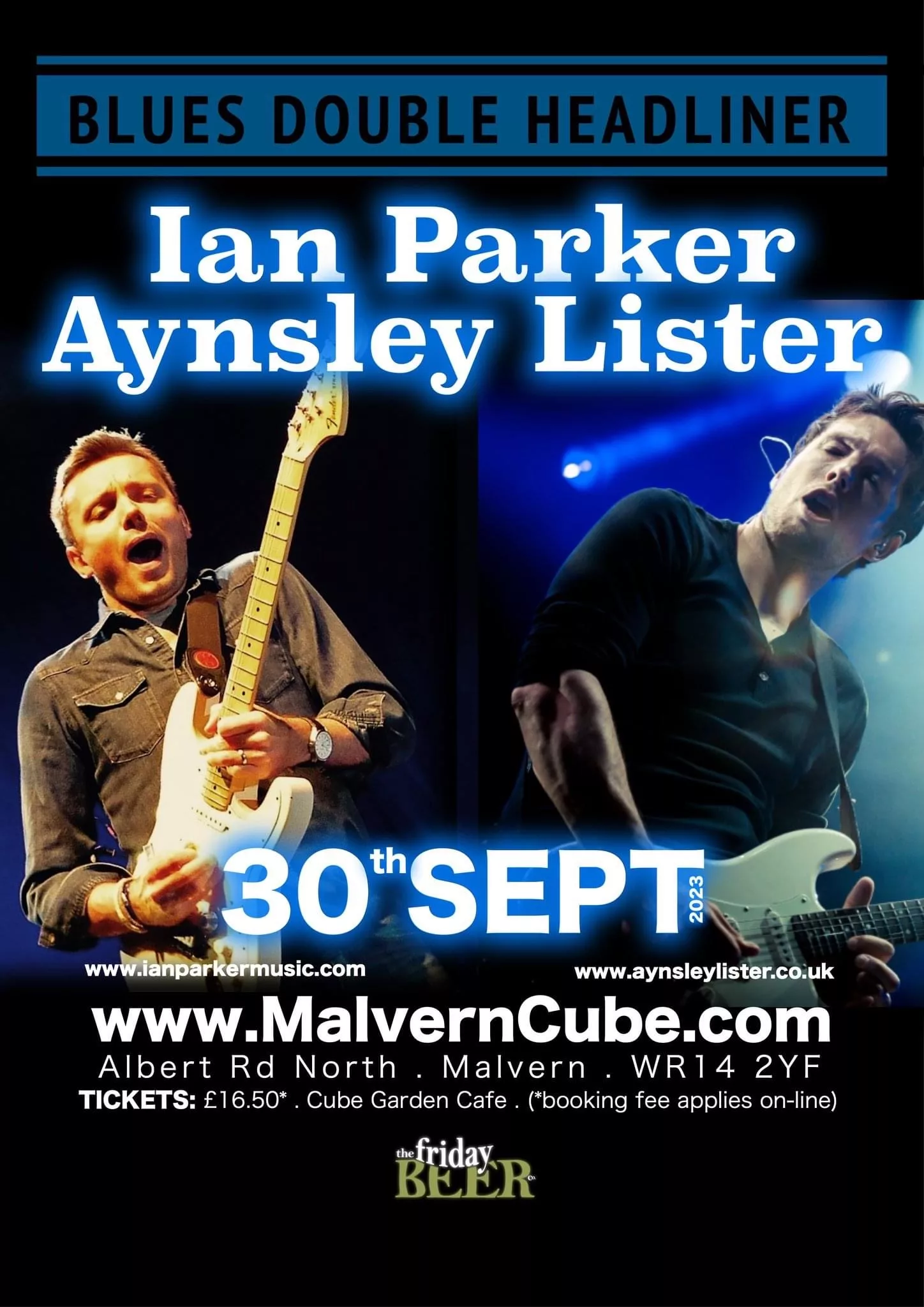 Aynsley Lister & Ian Parker
Enjoy an evening of full-on-unmissable blues with Aynsley Lister & Ian Parker.
A songwriter genuinely literate, sometimes almost literary, lan is an original craftsman. Expressed through a distinctive bitter-sweet vocal delivery, lan's songs hold nothing back. His ability and willingness to share with his audience, naked honesty and genuine emotion, is what sets him apart.
lan's career took off in the summer of 2003, when he signed to Ruf Records following a personal introduction to US record producer, David Z (Prince – Purple Rain). His debut album 'INSIDE' (Ruf1094) was released in October of that year and in March 2004, lan appeared on Germany's top live music TV show, 'Rockpalast', establishing him as a mainstay on the European blues circuit.
In September 2005, lan wrote and recorded five songs for a Ruf Records project album, 'PILGRIMAGE' (Ruf1112) which was recorded in Clarksdale Mississippi and Memphis Tennessee, and released in January 2006. The release of
'PILGRIMAGE', extended lan's touring activities throughout Europe and importantly, into the USA.
By 2010, lan had begun focusing his attention firmly on his song-writing, touring internationally as a solo acoustic performer – an artistic process which culminated in the release of his debut acoustic album, 'The Bare Bones' and an appearance at The Royal Albert Hall opening for Italian superstar, 'Zucchero'.
Now firmly back in his natural guise as a Strat-wielding bluesman, lan returns to MalvernCube bringing with him his full
4-piece band which features his long-time collaborator Morg Morgan on keys, Chris Lomas on bass and Christian Finn on drums. lan and his band combine their latest material with many of the highlights from lan's career to date. A must see show for blues fans!
When explosive natural ability collides with fiery, emotionally charged compositions, the result is AYNSLEY LISTER; an incredible guitarist whose brand of blues-based rock delivers contemporary song writing fueled with the kind of heart and soul that's missing from so much modern music. Whether passionately writing and recording his own material or mesmerising audiences at his live shows, one thing is abundantly clear: music is hard-wired to his DNA and flows from his fingertips like sonic bolts of lightning. With over 100,000 albums sold, lashings of critical acclaim and years of high profile touring, Lister's resume speaks for itself and firmly secures his position as a leading light in the resurgence of British blues-infused music. Aynsley's latest release; Along For The Ride, is out now!